Enfield Council has launched their Cycle Enfield project as a rebranding of their Mini Holland bid, with a website that details their aims.
As part of the consultation process, Enfield Council has created a 'Partnership Board', which includes members of Enfield Cycling Campaign as well as local residents' and traders' associations, which they say will shape the delivery of the project.
Roger Kingsnorth from Enfield Cycling Campaign says:
"With only 0.7% of journeys in Enfield taken by bicycle, we were very pleased that Enfield was successful with their Mini Holland bid. The most common reason that people give for not cycling is their perception that it is dangerous. The planned routes through the borough from north to south and east to west should provide safe ways for cyclists to get around the borough, to get to town centres and to link with the planned greenway network.
There has been some opposition to the scheme, mainly from traders fearing a reduction to their business, so we have been active in countering their concerns; attending meetings with traders, writing letters in the local press and organising a "Cash Mob Ride" into Palmers Green, a local town centre, to show that cyclists spend money too.
At present, though concerned at the slow progress so far, we are actively engaged in the discussion in the Cycle Enfield Partnership Boards which have been set up to finalise the plans before going to public consultation. We will continue to do this to both support the plans but also to hold the council to account and ensure that the cycling infrastructure constructed is good, safe and inviting and will lead to an increase in cycling in our borough."
A105 Palmers Green to Enfield Town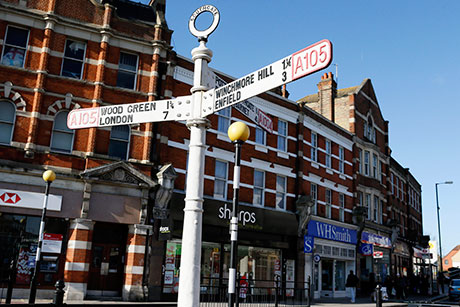 Enfield has launched its consultation on the first scheme of the Cycle Enfield programme, the A105 from Palmers Green to Enfield Town. The plans would see a proposed cycle route along the A105 providing access to shop and local amenities for people cycling, with physical separation from motor traffic. Providing a safe cycle route along this busy road has the potential to get lots more people cycling in Enfield - it takes just 20 minutes to cycle, but many people choose to travel by car. Enfield Council found when they surveyed people in Enfield Town that the number one reason given for not cycling to the town centre after 'no bike' was 'no safe routes' - and safer cycle routes was the most popular answer to the question 'what would encourage you to cycle (more often) to the town centre?'.
Enfield Cycling Campaign and LCC's Infrastructure Review Group are looking at the detail of the plans, but we encourage everybody to respond to the consultation in support of the proposals to create a safe, direct and convenient cycle route between Palmers Green and Enfield Town. Not only will this benefit those who cycle or who would like to cycle, but taking steps to reduce the amount of motor traffic along this route will make it a much more pleasant environment for people on foot - and businesses will benefit too. Research has shown that investing in making places better for walking and cycling can boost footfall and trading by up to 40%.
The consultation will run until 9 October 2015.